---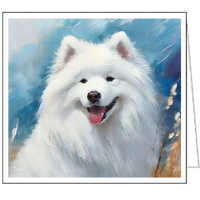 • Exquisite original art paintings of Samoyeds
• High-quality design and luxurious feel
• Complete set with envelopes, packaged in an elegant gift box

Capture the beauty and essence of Samoyeds with this set of 6 exquisite notecards. Each card features an original art painting, showcasing the elegance and unique characteristics of this beloved breed. Crafted with attention to detail, these high-quality cards are printed on durable cardstock, ensuring a luxurious feel. The vibrant colors and intricate brushstrokes bring the artwork to life. Packaged in a clear plastic gift box, this complete set is perfect for gifting to any dog lover or art enthusiast.